Vet to Pets- Mobile Veterinary Hospital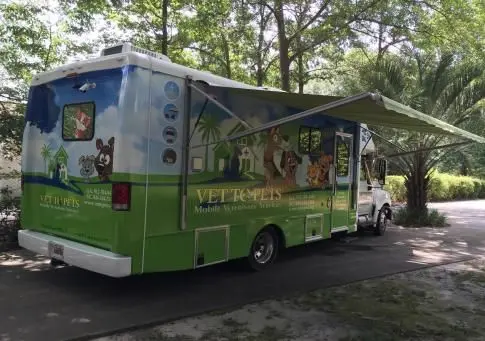 Our appointment book is computerized which allows us to efficiently make appointments for you and your pets. We do book appointment times fairly quickly and can be booked out as far as 3 weeks for vaccine appointments. Urgencies are accepted anytime our mobile clinic is open. If possible it is best to call us early so we can advise you of additional emergency care if needed before we arrive.
We have veterinarians and personnel on duty 6 days a week who are trained and equipped to handle any urgent or routine care your pet needs. Where being mobile has it positives; it also has its negatives which are we may not be close enough that day to quickly provide emergency medical care and we don't have over night observation. If you ever feel that your pet needs emergency treatment do not hesitate to call us immediately or Savannah Emergency Clinic (912-355-6113). It is best to call with as much information as possible so that a team member can advise you on your particular emergency and if there is something you can do to comfort your pet before we arrive or if the Savannah emergency clinic is your best option.
Types of Pets We see regularly:
Vet to Pets Mobile Veterinary Services™ specializes in providing Veterinary Care for:
Dogs
Cats
Pocket Pets
Chickens/Turkey
Vet to Pets™ offers discounted services to senior citizens, military, teachers and local area rescue groups. Pre-approval is required to qualify for the rescue group discounts, please call us for more information or ask your chapter president.